Expert Car Detailers
Black Tie Detailing is your leading provider of professional mobile auto detailing services in Germantown, MD, and in other nearby areas. We are your detail shop on wheels with over 15 years of experience in the detailing industry that guarantee quality service and premium products that improves your cars overall appearance, performance and longevity.
Black Tie Detailing maintains the highest standards in every aspect of our business. From the actual services and assistance we provide our clients, vehicle owners are promised to get an excellent customer service experience and a showroom quality car.
We have built our entire business on a strong foundation focused on understanding what our clients and their vehicles need. We offer a premier selection of auto detailing germantown packages from our entry-level Standard Class service, to the best-selling Business Class service up to our premium First Class service - you'll find the right package that suits your needs.
Get your car detailed with our seasoned, licensed and insured detailers. We bring our professional services to residential, office buildings anytime anywhere in the Gaithersburg Md, Fairfax Va and Washington DC area.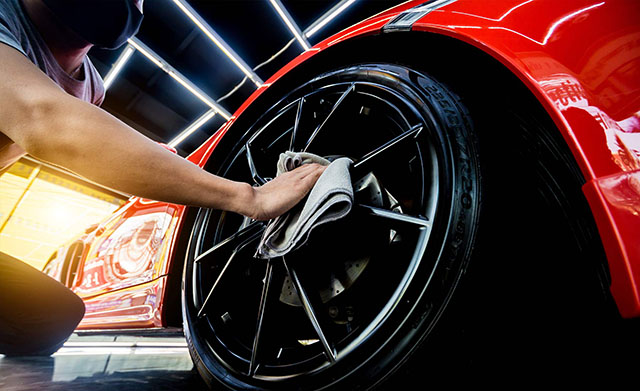 STANDARD
CLASS
Choose to detail your car with our Standard Class Auto Detailing Service you will get all the basic and most essential ingredients of a good car detail. This service is perfect for clients looking to give their car's interior and exterior...
$190
Sedan/Car
$210
SUV or Large Size Cars
BUSINESS
CLASS
Fine professional detailing offered to you only by Black Tie Detailing. With the Business Class Auto Detailing Service, your car will get all the fine points of a basic detail job plus a whole lot more including a total interior clean-up an...
$230
Sedan/Car
$270
SUV or Large Size Cars
FIRST
CLASS
Get everything you expect from a truly VIP service with Black Tie Detailing's First Class Auto Detailing Service. From every bit of your basic detailing needs to the awesome Clay Bar Treatment and 9-Step Paint Solution - you will be recei...
$310
Sedan/Car
$360
SUV or Large Size Cars
Full List of Our
Services
Some title here
Some text here.
List item;
List item;
List item;
Auto Detailing Germantown Md
Built in 2005, Black Tie Detailing has been serving vehicle owners all over the Virginia, Maryland and Washington DC area. We have gained years of experience, techniques and procedures in car detailing Germantown industries that guarantee only absolute results. We earned a reputation for providing exceptional and incomparable detailing service across states.
Detailing is our passion. We work meticulously to restore and transform every vehicle we handle. We treat them as our own, and always go the extra mile to give you the most impressive detailing service you will ever have.
Our experienced, licensed and insured detailing specialist only uses proven and tested procedure, meticulous steps, and use the safest methods and premium products that promises the right car care you need.
Our more than 10 full time detailing specialists allow us to offer same day schedule at your best convenience. You can easily schedule same day appointments directly from our website or give our 24/7 customer service support a call for assistance.
Testimonials
They did an excellent job! My car was in pretty bad shape with paint cracking. Black Tie Detailing thoroughly detailed my car and fixed some paint issues. My car looks and smells brand new. I highly recommend Tito and his detailing team!
Top class detail service in the Germantwon. Exceptional service from their experienced detailing technician Dave. Absolute quality work! Meticulously cleaned my car and fixed some scratches and swirls imperfections. I am impressed!
I was searching for Car detailing near Germantown md and found Black Tie. They are very efficient and quality service! Michel was extremely helpful, very professional, knowledgeable and accommodating! Highly recommend their service!